Greetings!
Hello! We are Han, Carmen, Charles, & Cataleya Wellington. Welcome to Wellington World Travels!
The Wellington Family
Han and Carmen met on a flight to Colombo, Sri Lanka in November 2010. We have been together since then. We had a civil wedding in New York, USA in September 2012, and a church wedding in Tagaytay, Philippines a year later. We are an expat family living and working in Doha, Qatar.
Han is an American, originally from Jamaica. He is a B777 Captain and a Law student. He has been flying since 1999 in different airlines in the United States of America.
Carmen is a Registered Nurse in the Philippines. She wanted to see the world, so she decided to work as a Flight Attendant with the same airline Han is working. She worked for three years and then resigned in order to start a family. Read Carmen's expat experience here.
Charles William was born in Miami, Florida. His first travel was when he was only 6 weeks old on a 15-hour flight from Miami to Doha. He is now 4 years old, and he has been to more than 10 countries worldwide.
Cataleya Victoria was also born in Miami, Florida. Her first travel was to Atlanta, Georgia when she was only 3 weeks old!
The Wellington Family are solo travelers, traveling couples, family travelers, and expats - your all-around travelers! See the list of countries we have visited here.
Wellington World Travels - the Travel Blog
We originally started the website as a way to share our world travels and family adventures to our families and friends, especially to those who are not on Facebook. Then other people saw our travel posts and had fun looking through our photos. That's when we decided to make it a business. We wanted others to see the world through our eyes and also inspire them to travel more.
We actually had a second thought in starting a travel website, since none of us are writers. Handel is busy working as a pilot and studying Law at the same time. Writing is not Carmen's best skill. But then a relative told us that we can just post photos. That's why you will notice most of our travel posts are photos only. Plus, most of them happened several years ago that we can't remember in detail what had happened. Carmen is starting to make blog posts and learning how to write. I guess we are bloggers now.
Some of our photos are old and blurred. But they are memories and we still want to share them. Don't worry, we are getting a good camera so we can get quality photos. Soon, we will be amateur photographers!
You can see a lot of travel websites giving you city guides, a list of things to do, must-see places to visit, what you can do in few days, but only a few blogs feature on a short layover. That's where we come in. We usually stay in a foreign country in less than 24 hours only. Sometimes, we visit Berlin or Paris if we want a change of pace, or go to Phuket for one night if we want some relaxation. We decided to make posts on what you can do in 12 hours in a certain city. We wanted you to realize that you can still have fun and see the place even if you are just stopping over in a country or doing a short layover.
Moreover, see the list of UNESCO World Heritage Sites and New 7 Wonders we have visited.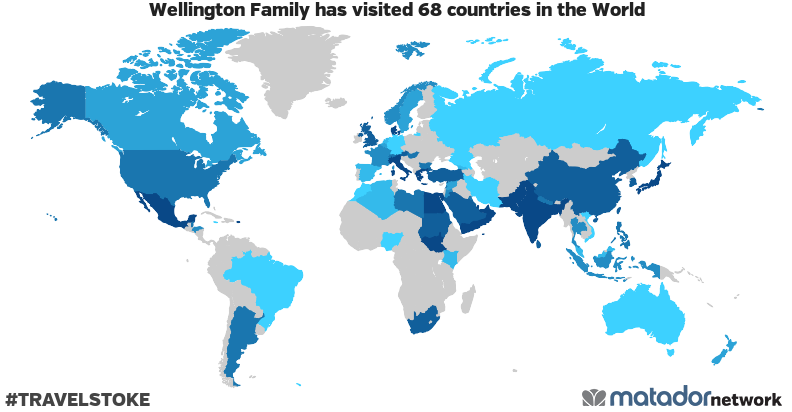 Wellington Family has been to: United Arab Emirates, Argentina, Austria, Australia, Bangladesh, Belgium, Bulgaria, Bahrain, Brazil, Belize, Canada, Switzerland, People's Republic of China, Germany, Denmark, Algeria, Egypt, Spain, France, United Kingdom, Georgia, Greece, Hong Kong, Honduras, Hungary, Indonesia, India, Iran, Italy, Jamaica, Jordan, Japan, Kenya, South Korea, Kuwait, Lebanon, Sri Lanka, Luxembourg, Libya, Morocco, Maldives, Mexico, Malaysia, Nigeria, Netherlands, Norway, Nepal, New Zealand, Oman, Philippines, Pakistan, Puerto Rico, Qatar, Russia, Saudi Arabia, Seychelles, Sudan, Sweden, Singapore, South Sudan, Syria, Thailand, Turkey, United States, Vatican, Vietnam, Yemen, South Africa.
Get your own travel map from Matador Network.
Wellington World Travels - Online Community
We travel in comfort and convenience. We get standby discounted tickets so we can't really advise you on cheap traveling. When we need to buy full fare tickets, we use these resources to book our tickets and hotels and plan our trip.
Since we can't always give you a comprehensive travel guide, we decided to build a travelers' community of solo backpackers, couples, and families so we can read, learn and rediscover the world through you. We hope you will share your travels stories with us and our readers.
As expat ourselves, we created the 'Expat Life Interview Series'. We also want to know how it is to live and work in a foreign country aside from Qatar. Be a part of it by sending us your expat story.
Thank you for visiting our website. We hope you enjoyed our website. Don't forget to leave a message in the comment box or say hi in Contact Us page.
Safe Travels!